Joint Captains' Drive In 2020
A new golf year gets under way in far from normal circumstances, the Drive In ceremony went ahead observing covid 19 safety restrictions. Steve Derbyshire and Sue Hughes were appointed joint Captains during a virtual Annual General Meeting held on Sat.31st November. A typically damp November morning attracted a good turn out of members to support the new Captains. Traditional buck fizz refreshments and snacks sadly were not served this year due to covid safety restrictions. A calm Sue Hughes and Adam Grint were reminiscing at the tee, both grew up a bus ride apart in the Stechford area of Birmingham. Head Professional Alex Nelson offered farewells to Henri and Andrea and welcomed the 2021 Captains to the 1st Tee. Any nerves were soon dispelled as both Captains were up to the task. Janet Tricker was in charge of the charity lottery for estimating the lengths of the drives, winners received a bottle of wine .
Results
Steve Derbyshire - 190 metres, Prizewinner - Ivor Ludford
Sue Hughes - 122 metres Prizewinner - Don Crowland
Following the Drive In, a traditional 13 hole Greensome match involving the incoming Captains, Adam Grint, General Manager and Head Professional, Alex Nelson.
The two Captains could not be presented with their GX blazers at the virtual AGM this year, this ceremony and the unveiling of the Men's Captain caricature took place during lunch in the dining room. Past Men's Captain, Henri Botha hosted the ceremony, exchange of gifts and Bucks Captain tie presentations
The club wishes the best of luck to Steve and Sue for 2021, covid 19 is likely to impact on their plans as it has for Henri and Andrea this year. Tributes were paid at the AGM to the immediate past Captains , they were praised for their ingenuity and resilience in coping with the unpredictability of 2020.
The Captains are supporting separate charities this year, Sue - Blood Cancer UK , Steve - Alzheimer's Research UK.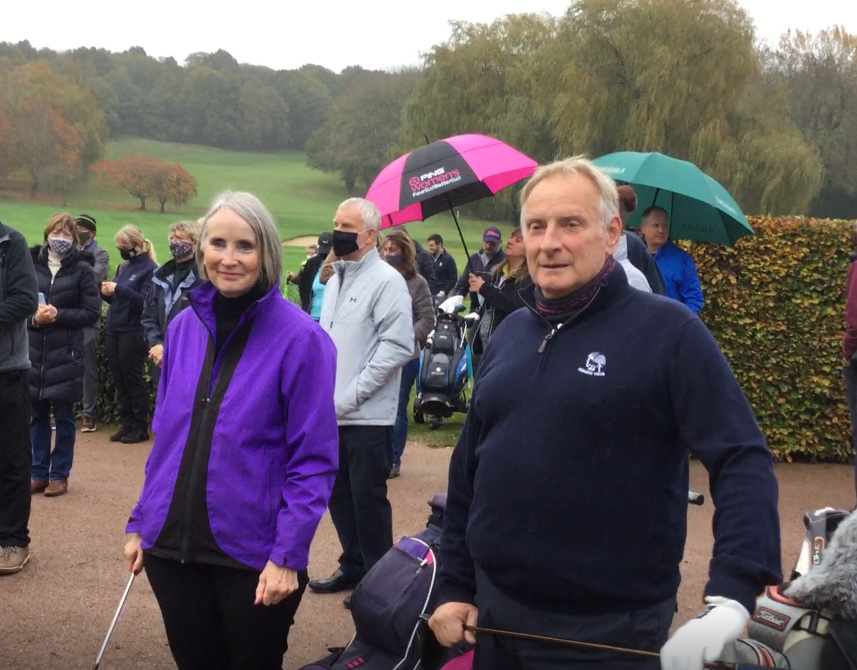 Our Captains for 2020/2021

Traditional Drive in Greensome teams receiving top marks for social distancing